Bridge Operator Console BOC Call Recorder
BOC Call Recorder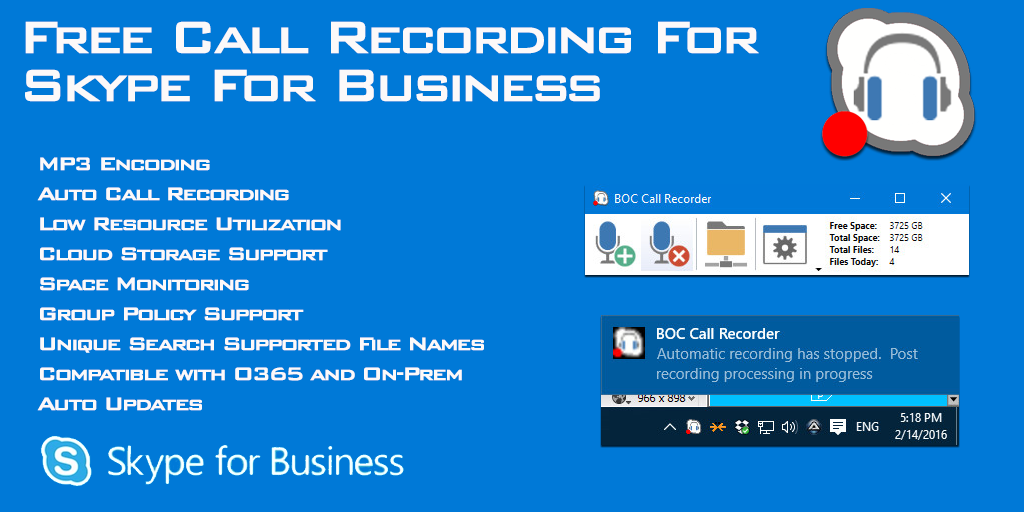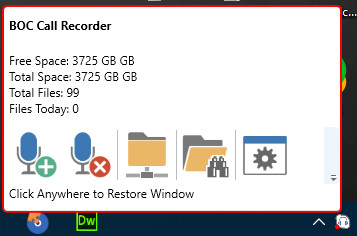 Status Hover Panel

Bridge Call Recorder can run in a window on the taskbar, or be minimized to the system tray. While in the system tray, a single click shows you the status window.
About BOC Call Recorder
The BOC Call Recorder is designed to allow automatic client side call recording in Skype for Business and Lync 2013. BOC CR works with both on-prem installs as well as cloud hosted deployments. The BOC Call Recorder is optimized to post call convert audio recordings to MP3 format for maximum storage performance and scalability. In testing, BOC CR typically converts a 600MB, 40 minute conversation, into a 7MB MP3. The BOC Call Recorder works with any Windows Recording Device / Windows Playback Device combination, and mixes the 2 channels into a single file. This flexibility allows it to work with just about modern headset, or phone capable of making itself a system audio device. (Example : Polycom VVX with BTOE Installed and Configured) Users can also start a manual conversation recording in a deployment where you need to record some other soft-phone or non S4B device.
Product Details
MP3 Encoding
Auto Call Recording
Low Resource Utilization
Cloud Storage Support
Space Monitoring
Group Policy Support
Unique Seach Supported File Name
Speech to Text Transcription
Auto Updates
o365 Compatible
Easy Device Selection
Get From Technet
Get From Bridge OC
Get Support
---
---
Bridge Operator Console is a replacement for Cisco Attendant Console. It offers a more robust feature set, including Lync integration, at a much lower cost. You can also replace Fidelus, replace ARC Soltuions, and replace IQNet.
Bridge Operator Console is a replacement for Microsoft Lync Attendant 2010. It is superior to Attendant Pro from landis, Competella, and Enghouse
Bridge Communications, LLC.