Bridge Operator Console Attendant Console for Cisco Unified Communications
Bridge Operator Console

The Bridge Cloud Suite for Cisco Unified Communications offers customers more flexibility than traditional Windows desktop installations. This SaaS suite of apps runs platform independant in any modern web browser. The Bridge Cloud Suite includes the latest generation of Bridge Operator Console, Bridge Supervisor Reports and Dashboard, Bridge Company Directory, and Bridge Cisco Finesse Admin. Click the photo above for more information.
Traditional Desktop Client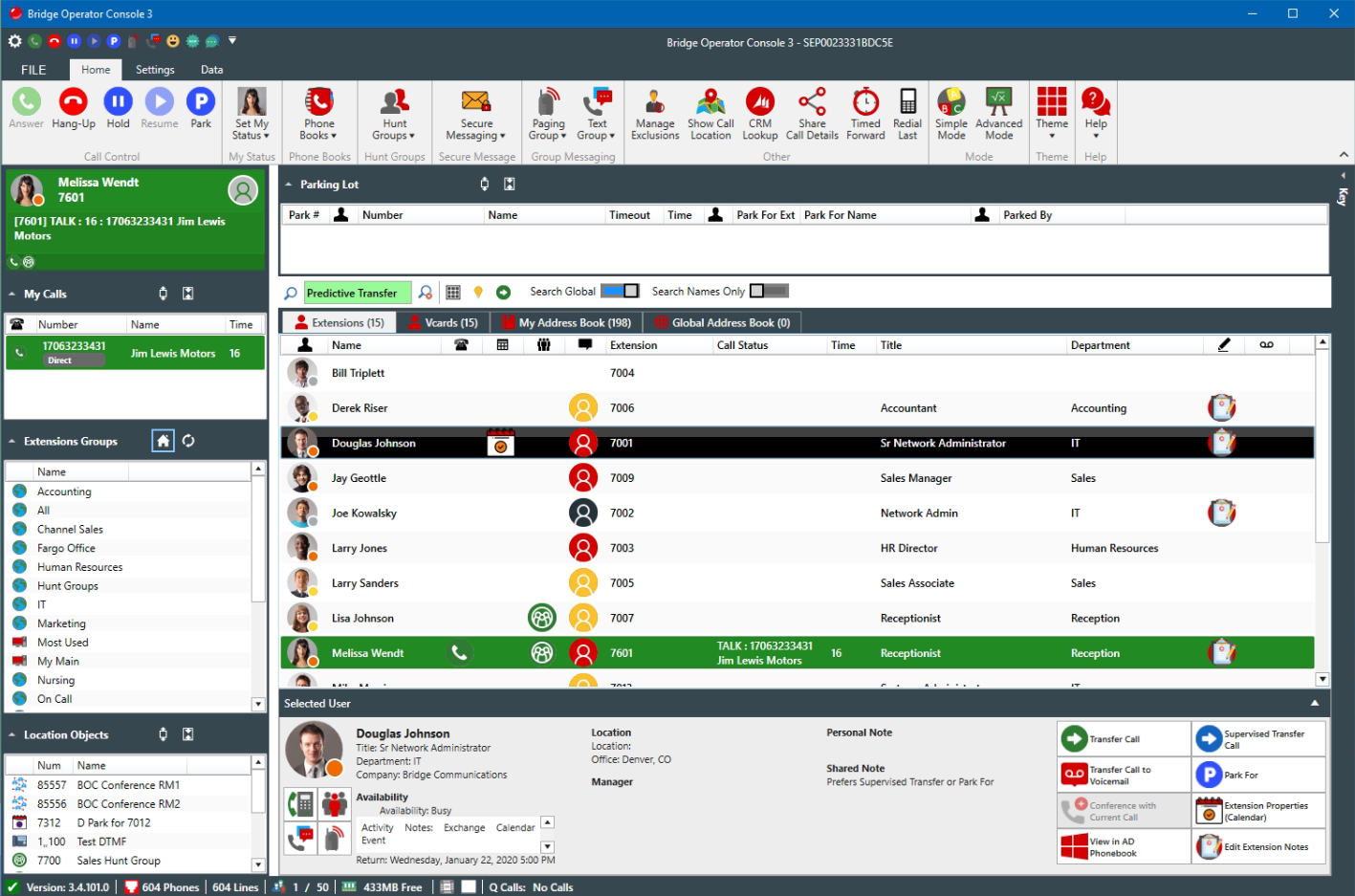 About BOC
An attendant console for Cisco phone system users is a must. Without one, your employee productivity drops, your customer caller experience lessens, and it takes more resources to handle simple tasks. Bridge Operator Console is the attendant console category king for enterprise customers. It seamlessly integrates with CUCM, Jabber, Skype for Business or Lync, and UCCX/UCCE. Bridge Operator Console takes attendant console software to a new level, with machine learning AI, and a spectrum of features developed specifically for Cisco Unified Communications. Bridge Operator Console is IVT tested and Cisco Compatible, you can trust the products offered by Bridge Communications like the other 30,000+ clients that have deployed our solutions.
Product Details
Compatible with CUCM 6.x - 12.x
Cisco IVT Tested
Phone Messaging and Paging
Predictive Transfer - AI
Related People
Park For
Simple and Advanced Mode
Product Pricing
View in Store
---
About Bridge Operator Console

Bridge Operator Console for Windows is designed to be a replacement for the Cisco Attendant Console auto attendant product available in Call Manager versions 7.x and below. It allows for full presence from the phone system, Microsoft Exchange Server calendars (with optional Exchange Connector), Microsoft Lync (with free Lync / Skype for Business Connector), and Cisco Jabber / CUPS. By combining all of your company's status information into a single source, the operators can make spit second call decisions. Bridge Operator Console offers full call control functions, such as transfer, supervised transfer, parking, hold, resume, call, redirect, voicemail transfer, etc. BOC also includes the capability to send text messages or voice pages directly to Cisco IP desk phones. A unique feature that leverages the power of the phones is Park For. Park For allows the user to park a call for someone, and have that person's phone notify them of the call, removing the needs for a page, or second call. You can see a full list of features on the bottom of this page.

Product Screen Shots
---
Video Tour of Bridge Operator Console
---
Bridge Predictive Transfer
Artificial Intelligence Guarantees Maximum Efficiency
Multi-factor Machine Learning
Available in Client/Server and Stand Alone
Learns from other users
Learns from entire organization
Saves time and money
The Predictive Transfer feature leverages much-factor parallel machine learning algorithms to identify the most logical persons or places a caller is trying to reach within an organization. This feature provides the best possible customer service experience by reducing the time between call answer, and call arrival at its final destination.
---
Languages Supported
Bridge Operator Console 3 has native support for 11 languages. English, Spanish, French, German, Arabic, Italian, Japanese, Korean, Dutch, Portuguese, and Russian interfaces are all built in.

Product Add-Ons
Related Products
Product Features
---
Bridge Operator Console is a replacement for Cisco Attendant Console. It offers a more robust feature set, including Lync integration, at a much lower cost. You can also replace Fidelus, replace ARC Soltuions, and replace IQNet.
Bridge Operator Console is a replacement for Microsoft Lync Attendant 2010. It is superior to Attendant Pro from landis, Competella, and Enghouse
Bridge Communications, LLC.