Bridge Operator Console About Bridge Communications
About Bridge Communications
About Bridge Communications
Bridge Communications is the developer of the Bridge Operator Console for both Microsoft Skype for Business (Lync) and Cisco CUCM solutions. Our software provides powerful, affordable and scalable call handling. Bridge Operator Console solutions are designed to help get the most out of your UC investment. Our intuitive design makes them incredibly easy to use. Our Operator Consoles offer a robust feature set, combining call control with presence monitoring. All at an affordable price with features that will blow you away!

Bridge Communications was founded in early 2006. Initially Bridge Communications was a hardware vendor, specializing in servers, SANs, networking, and telecommunications. In 2007 after looking, with no success, for an attendant console program that would meet our needs, we decided to develop our own. In 2008 we were approached by several companies who weren't thrilled with the offerings available for CUCM, and asked if we could create a similar product on that platform. In 2009 Bridge Communications joined the Cisco Developer Network, and began to develop an attendant console replacement for the Cisco legacy Attendant Console program, which was then scheduled to be terminated. By that summer, working closely with CUCM users we deployed our first version in a live production environment. Within a few months, due to the amazing success of our attendant console, we left the hardware business, and focused only on our software line.


Cisco Unified Communications
Since then Bridge Communications has developed a network of the best unified communications resellers around the world. Together we have helped thousands of businesses solve problems together, and streamline how they handle calls. The Bridge Operator Console is in use all over the globe by some of the largest corporations in the world. We have added many additional add-ons to our product lines, allowing Bridge Operator Console to perform the functions that used to require operators to run 3 or 4 applications. Our add-ons span multiple verticals, empowering operators in every type of organization.

In 2018 Bridge Communications announced a SaaS suite of tools for Cisco Unified Communications. The Bridge Cloud Suite includes the latest version of our flagship Bridge Operator Console, as well as tools for call center supervisors, and Cisco Finesse administrators.
---
Skype for Business
In 2014 we began developing a similar program, Bridge Lync (Skype for Business) Operator Console for Microsoft Lync (Skype for Business), to bring the same functionality users had come to expect in a traditional phone system, to Microsoft Lync (Skype for Business). Working closely with Microsoft, we have been able to develop a best in class attendant console for the Skype for Business platform. Bridge Operator Console, and the Bridge Boss-Admin Executive Console both work in on premises, cloud, and hybrid deployments. They combine a feature set that can remove the need for contact center applications in most organizations.

---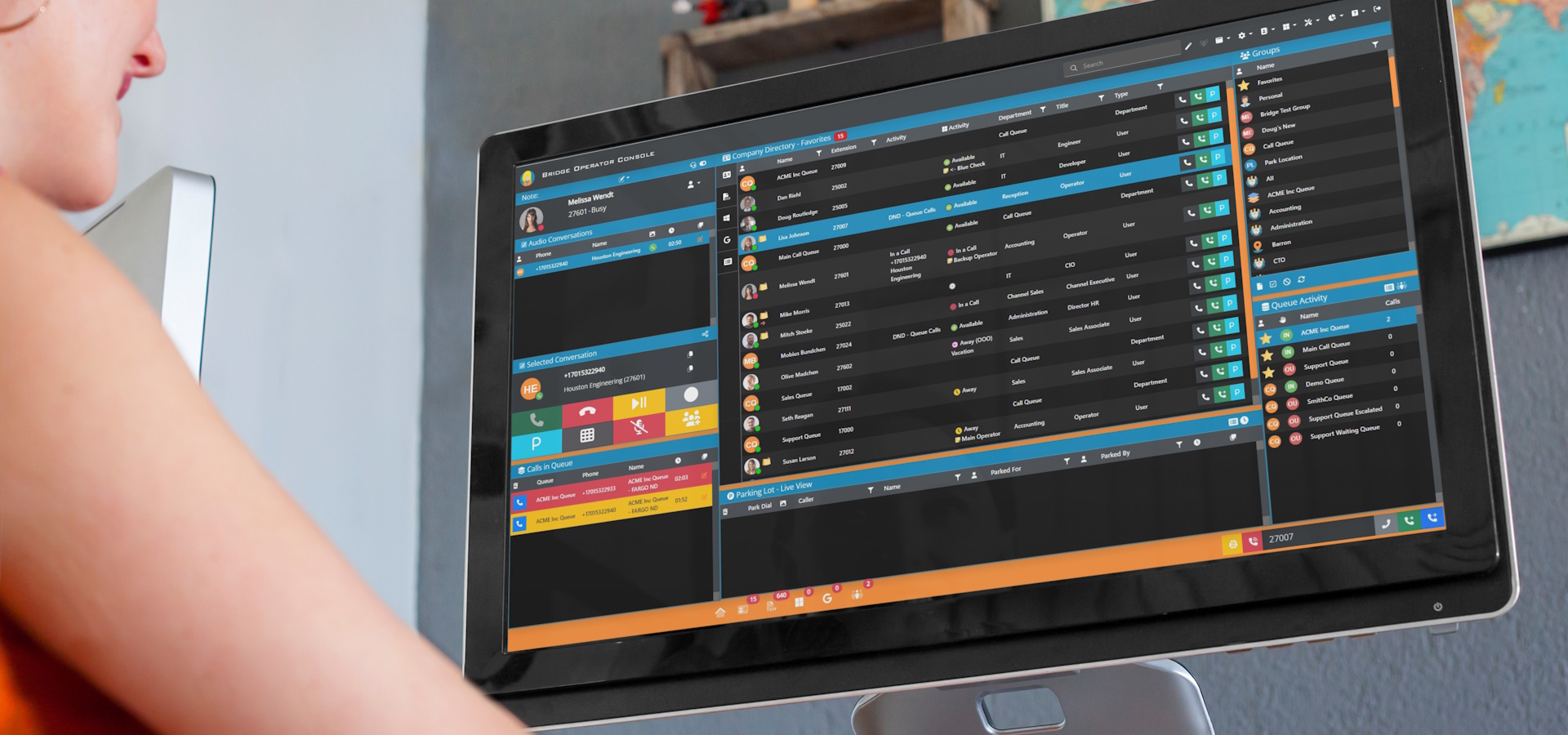 RingCentral
In 2018 Bridge Communications entered into a partnership with RingCentral and began development of the Bridge Operator Console for RingCentral. Since then, Bridge Communications has become a Premiere Partner, and supplied thousands of RingCentral customers with our attendant console.
---
Microsoft Teams
In 2021, Bridge Communications leveraged RingCentral direct routing for Microsoft Teams, to build an attendant console for Microsoft Teams. This combination adds needed functionality missing in navtive Teams and Microsoft Calling plans.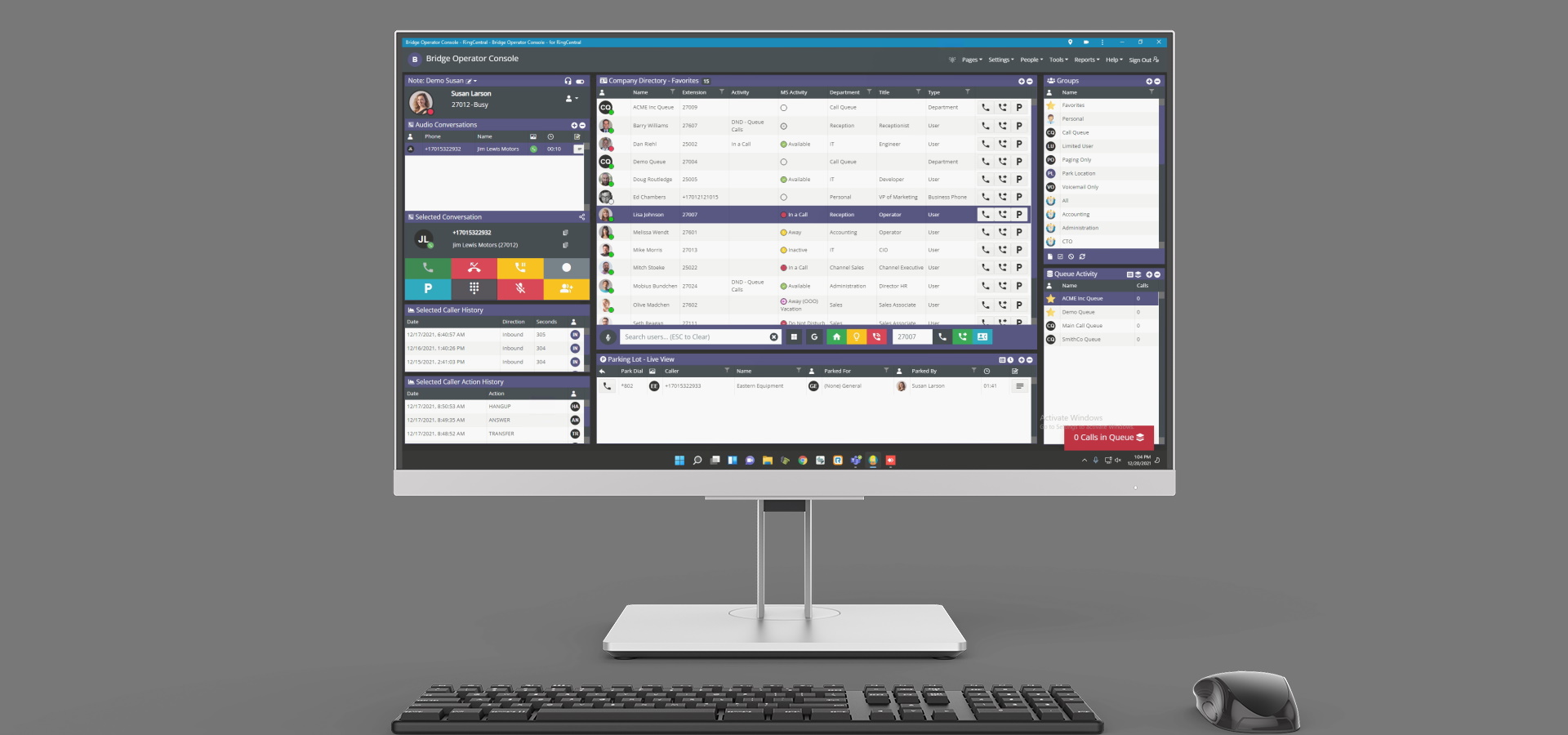 ---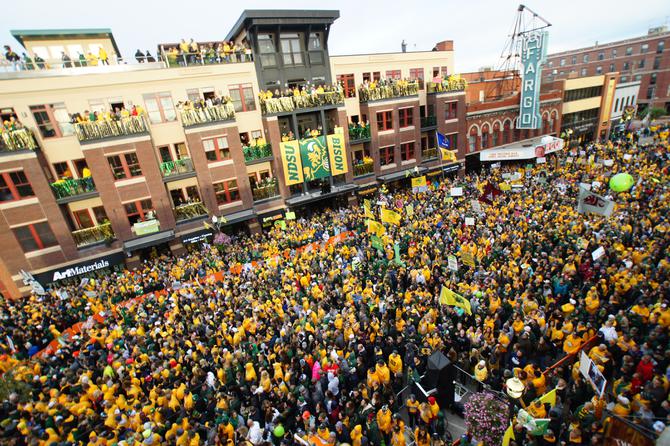 About Fargo
Bridge Communications is headquartered in Fargo, ND. Fargo is home to the second largest Microsoft Campus, employing approximately 5,000 tech professionals.

Fargo is also home to North Dakota State University, which has an enrollment in excess of 15,000 students.

Our philosophy is simple. We listen to our resellers and customers, and develop solutions that exceed their needs. We keep everything simple, from our pricing, to getting a live human on the phone in a matter of minutes when you need help.
---
Bridge Operator Console is a replacement for Cisco Attendant Console. It offers a more robust feature set, including Lync integration, at a much lower cost. You can also replace Fidelus, replace ARC Soltuions, and replace IQNet.
Bridge Operator Console is a replacement for Microsoft Lync Attendant 2010. It is superior to Attendant Pro from landis, Competella, and Enghouse
As your business grows, Bridge Operator Console grows with you. It is built to scale, accommodating the needs of small teams as well as large enterprises. Furthermore, it stays up to date with the latest Microsoft Teams updates, ensuring compatibility and access to new features as they become available. With a future-proof solution like Bridge Operator Console, you can confidently invest in your communication infrastructure and stay ahead in the ever-evolving business landscape.   Experience a new level of control, productivity, and efficiency with Bridge Operator Console for Microsoft Teams. Transform your communication experience and unlock the full potential of your organization. Contact us today to learn more and schedule a demo tailored to your specific needs!
Bridge Communications, LLC.