Bridge Operator Console Find and Dial Numbers
Find and Dial Numbers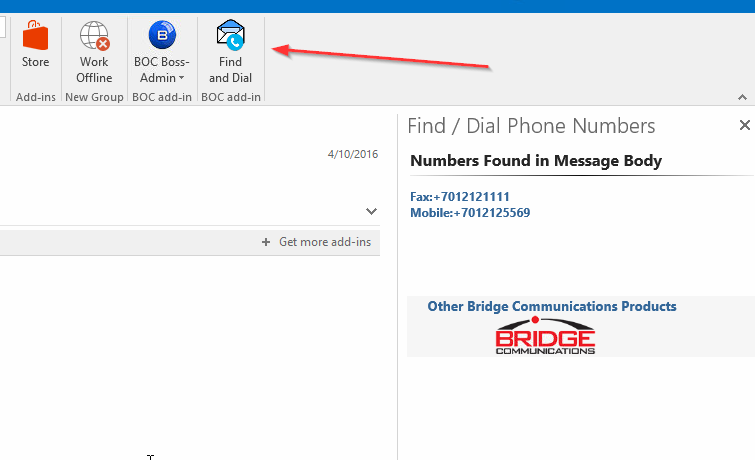 About Find and Dial
Find and Dial numbers is an Outlook Add-in that allows users click to dial capability from plain text numbers found in their email. This add-in will scan the current message, and create formatted tel: hyperlinks. Find and Dial numbers makes it possible to pass dial requests to any application that can handle this type of URI. Popular programs that support tel: URI dialing include, Skype for Business, Lync, and Cisco Jabber.
Download From the Office Store
Bridge Operator Console is a replacement for Cisco Attendant Console. It offers a more robust feature set, including Lync integration, at a much lower cost. You can also replace Fidelus, replace ARC Soltuions, and replace IQNet.
Bridge Operator Console is a replacement for Microsoft Lync Attendant 2010. It is superior to Attendant Pro from landis, Competella, and Enghouse
As your business grows, Bridge Operator Console grows with you. It is built to scale, accommodating the needs of small teams as well as large enterprises. Furthermore, it stays up to date with the latest Microsoft Teams updates, ensuring compatibility and access to new features as they become available. With a future-proof solution like Bridge Operator Console, you can confidently invest in your communication infrastructure and stay ahead in the ever-evolving business landscape.   Experience a new level of control, productivity, and efficiency with Bridge Operator Console for Microsoft Teams. Transform your communication experience and unlock the full potential of your organization. Contact us today to learn more and schedule a demo tailored to your specific needs!
Bridge Communications, LLC.