The Problem
As I am sure you are well aware, starting with Cisco Unified Communications Manager 8.0, Cisco is no longer including the free legacy attendant console solution. This has left customers with 2 choices;
1. Stay on Cisco Unified Communications Manager 7.x
2. Upgrade CUCM and get a paid replacement for the legacy Cisco Attendant Console

With many of the alternatives costing over $1000 per attendant console user, this has forced many businesses to either eliminate AC users, or not upgrade at all. Bridge Operator Console was created simply to fix this problem. Bridge Operator Console is written specifically for CUCM so it doesn't lack features trying to be generic to all phone systems. In fact we include many features not found anywhere else for less money.

We believe the attendant console solution can be compared to buying a car. While every car needs or should have break lights, you would be left scratching your head if they were 20% of the cost of the entire vehicle. The same is true for attendant console solutions, they are necessary part of any medium to large enterprise's ability to move calls effectively, keeping customers, vendors, and employees happy and productive.
There is no reason that a customer upgrading CUCM with 20 attendant console users should expect what was free, to now cost $30,000
You can actually use BOC for 20 consoles, and pay for maintenance and support for 29 years for less than that!

We believe by making the attendant console solution cost effective, an enterprise can have more AC users, and better distribute their call load, making their communication run smoother. We believe at the same time an affordable solution can be more reliable and essential feature rich, than it's over priced competitors.
Sample Cost of 100 Attendant Console Users



Based on $1100 per Enterprise (CUEAC) and $695 per Business (CUBAC) client

Pricing Examples
Server Connector with 10 clients = $2550 USD Total

Server Connector with 20 clients = $4050 USD Total

Server Connector with 3 clients, and 50 Bridge Executive Consoles = $2750 USD Total
Bridge Operator Console Standalone (No Server ) $1000 USD Total
Bridge Operator Console Server Connector with 3 Clients $1500 USD Total
The Cost
So how does our pricing work? It's simple. Every organization will need our connector server (A windows service that runs on any Windows 2003 or newer service) Why do we need a server? The answer is simple, to make the program scale. Our server makes 1 connection to your phone system to query all the essential information needed for an attendant console. Can you imagine what would happen if you tried to run 20 or 50 copies of a program which each had to individually query data on your phone system? Our server connector is $1500, but it INCLUDES 3 CLIENT LICENSES AT NO CHARGE.
So now you are up and running, but perhaps you need additional users. No problem, each additional users is only $150. As you can see adding users at $150 instead of $1500 adds up in no time, and really makes it possible to distribute the attendant console solution wide, for the best call handling.
Client / Server or Standalone Deployment (More)
---

Software Maintenance and Support included year 1, 20% for following years
Why are We Better? (Besides costing so much less)
Bridge Operator Console was written from the ground up to take advantage of CUCM specific features, and features specific to Cisco IP Phones. So what does mean? It means we can show you more phone status, like DND, CFWD etc. It also means we can extend the function of the phones, with text messaging and voice paging to any supported Cisco handset. More Info on That.
Bridge Operator Console can park a call for a specific user, and then notify that user's phone without any paging or intervention needed.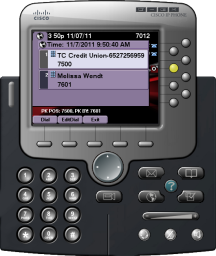 Bridge Operator Console can also forward a phone using either the phone, or for a specific time window using our server.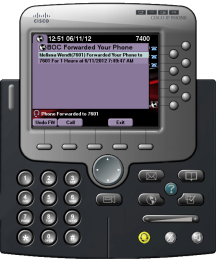 Bridge Operator Console can send an SMS style text message to a user's phone with full reply capability, great for when someone is on the phone.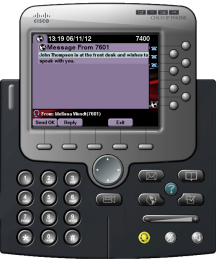 Bridge Operator Console contains may Cisco specific features on the server side too. It automatically detects shared lines, hunt pilots, and deals with them in a better way when it comes to displaying call information for the end users. They'll be able to see a call is ringing a shared line, or came from a hunt pilot, if they need to answer in a differnet manor for such.
Best of our all software is smart enough to know which version of CUCM you are running, and send the appropriate calls for that version. This means you don't have to change BOC versions every time you do a update to CUCM.
Call are not routed off your phone system via CTI Route points, so we never lose a call if our server or clients aren't running.




We honor the music on hold defined by your phone system, so we don't cause multiple music on hold problems like some other products.




You can use us, and handset, and a headset interchangeably at any point of any call. Pickup the call with a headset, use BOC to hold the call, use the phone to resume, use BOC to transfer or hang-up. No Problem.




BOC is written in tools made specifically for your operating system. You don't need any third party libraries like Java to run on Microsoft Windows, or any special libraries to run on Android.




BOC can integrate on a server level with any XMPP presence server like Cisco Unified Presence CUPS, Jabber etc. We can also integrate with Microsoft Exchange to show calendar status, and Microsoft Lync for presence information.




BOC can import data from your old Cisco Legacy Attendant Console program, so you don't need to re-enter speed dial information, simply import it.




BOC has multiple ways to do just about everything in the program. If your users prefer using the mouse, keyboard, double click, drag and drop, right click, or a touch screen, we have you covered. Because of this our program is very intuitive, easy to use, easy to train, and easy to transition to.



If you are not an operator but want full visibility and control try our mini view